Congratulations for making it all the way through the 21 Laws Of Fat Loss!
Most people never finish reading what they start and since you've made it here, I can tell you're a go-getter who will not be stopped.
The final law is the law that success leaves clues.
Regardless of what you're trying to improve in life… if someone else has accomplished it already, then they left a proven road map of the steps it takes to get there.
In fact if you want a short cut to success, simply do what the person before you did to get there. As long as you take action, you're guaranteed success as well.
Even with all the clues and proven plans for effective fat loss out there; it still surprises me why so many people struggle with this…
When I pondered this question recently, I thought about the commonalities of my most successful clients and what they did to reach their accomplishments.
So what was the common theme?
They hired a professional coach to keep them accountable, to show them the way and to increase the speed at which they got results.
Think about it… can you name a single high level performing athlete who doesn't at least have one couch?
Friend, I'd like to invite you to have a conversation with me, personally, where we can uncover what's been holding you back and discover the best plan of attack of you.
There'll be no pressure or commitments, I simply want to give you a gift for completing my 21 Rules Of Fat Loss!
Contact us to schedule your Breakthrough Sessions with me!
---
Did you know that if you sat on the couch for a full day, you'd still be burning energy (some fat as well)?
In order for us to survive, our bodies have a minimal energy requirement. We need energy for our brains to function, for our nervous system to fire, for our digestion to work and to maintain our muscle mass.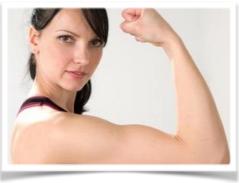 Even our fat tissue burns energy… it burns very little but it does burn some.
The tissues and organs that burn that require the most energy (calorie burn) are our brains, nervous system and muscles.
Since we can increase our brain tissue let's focus on the muscles.
If you increase your muscle tissue, even by a marginal amount, you'll actual increase the amount of calories you burn while you're at rest.
That means that you will be able to burn more fat while you're sleeping.
Pretty cool right?
It's important to leverage this law and have your workouts focus on Strength Training and increase your lean muscle mass.
If you're not sure how to do this, go back and read Law #6.
---
Carbohydrates, like fat, have been given an unfair bad rap. Over the last few years, it seems as if carbs and gluten containing foods have all been labeled as evil…
If you're trying to avoid "carbs" because you hear they were bad for you… It's crucial of you to know the difference between the good types and the bad types.
The Bad types:
Any carbohydrate that contains little fiber, little nutrition, high amounts of sugar and are processed – should be avoided as often as possible.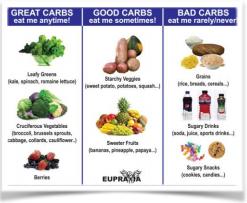 The Good type:
Any carbohydrate that has lots of nutrients (like fruits and veggies), lots of fiber, low amounts of sugar and are as close to their natural state as possible – should be added into your diet.
So what do bad carbs do?
Well when you eat the "bad carbs", they immediately cause internal cellular inflammation, raise your insulin levels and negatively affect your hormonal balance… Which means you'll gain weight much easier.
When you eat the "good carbs", they'll actually help you regulate your hormones to burn fat more easily, give you energy for sustained activity and help your digestive system moving.
Here are some examples of good carbs of you to begin to increase in your own diet.
Fruits
vegetables
squashes
sweet potatoes
quinoa
---
Our bodies are like a delicate machine. We run thousands of different cellular processes simultaneously. It's no wonder our bodies can get thrown out of whack from not getting enough sleep, eating a fatty meal, drinking too much and being dehydrated.
This is why it's crucial to not only carefully plan your success items (healthy meals and workouts) but to also track what you're doing.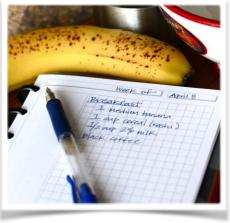 The truth is, most everyone (including you and I) will unaccount for 25% of the calories we consume when going off of memory.
Can you imagine what kind of impact that 25% will have on your waistline?
When you keep track of your metrics for the foods you eat, the water you drink and your choice of body measurement (weight, tape measure or trying on your favorite outfit) you'll be able to know exactly what's working and what isn't.
And the people that are meticulous about tracking are also the ones who get faster results… no surprise.
Today, start tracking everything you eat and drink, even if you know it's bad. There's lots of apps if you like doing it digitally or use the old fashion pen and paper method.
Track for 3 days and well go over it with you and tell you exactly what you should change for your desired goals.
---
You've probably heard the phrase, "You can't outwork a bad diet."…
To be honest with you, this isn't 100% true.



Depending on your metabolism, genetics, age and activity level, you actually can outwork a bad diet…
But it's an uphill battle!
When it comes to attaining success, in any arena, your best bet is to follow the path of least
resistance. Doesn't that make more sense than purposefully making things more difficult for yourself?
If you're currently working out and still binging on junk food you KNOW are not serving your goals, your chances of being successful drop by 90%. How does that sound?
Here is how to never sabotage yourself with bad foods again:
"Plan, schedule and prepare for sticking to your nutrition program first, before you plan anything else. First add your healthy meals and workout time into your schedule, then comes everything else!"
That means put your meals into your schedule so you know when you're next meal is coming. Prepare all of your healthy meals on Sunday and package them in containers to save you time and thinking.
And if you have a meeting or have to eat out, decide what you're going to order before you arrive.
If you need help creating a customized meal plan to help you reach your goals, send us a message.
---
I've gotten a lot of questions recently about snacking. How to do it? When to do it? If I should do it?
Well, you've probably heard that snacking is great for the metabolism…but are you taking it too far and falling into a snack trap?
In other words, your excessive snacking may be killing your fat loss results.
Let's face it, there are only so many extra calories that the body can take before it adds those on as unwanted fat.
Even if you're eating perfectly healthy meals and putting in your time at the gym, if your snacking is out of control then your results will be disappointing.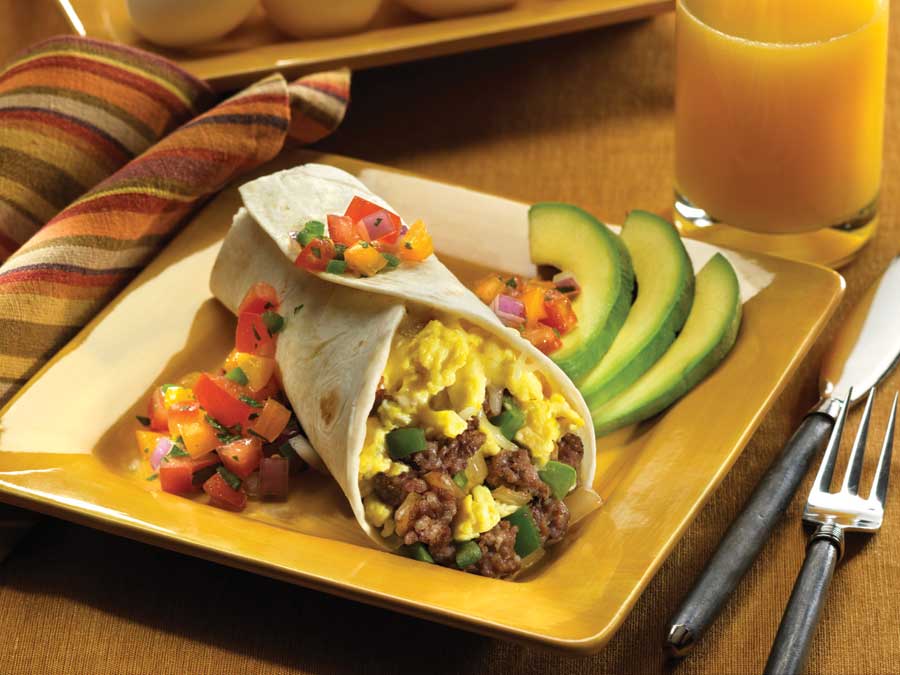 Here's what you need to know to avoid The Snack Trap:
1. Calories Count. Even when you're snacking on "healthy" food, you've got to keep track of how many calories that you're taking in. Almonds are healthy, but if you down 800 extra calories in them you'll quickly gain weight.
2. Fill Up on Protein & Fat. A lot of well-meaning people are still afraid of fat. They think that if their snack is high in fat then it will end up on their body as fat. This is simply not true. Healthy fat, such as avocado or almonds, is a wonderful thing to snack on as it fills you up and keeps you full longer.
3. Avoid Sugar Calories. Sugar is an awful thing to snack on when weight loss is your goal. Refined sugar is a catalyst for fat storage, so avoid any snack that contains sugar. Remember that eating sugar will satiate your hunger for a very short period of time, and then you'll quickly be hungry again.
4. Don't Be Fooled By 100-Calorie Packs. A popular marketing technique is to package junk food into 100-calorie packs. These could be crackers, cookies, chips…basically any guilty snack food you could think of. The premise is that since you're only eating 100 calories, the snack is healthy. I'm sorry, folks, but eating 100 calories of junk food is not a healthy snack. You are better off avoiding the junk completely and eating something wholesome.
5. Use The 'Is It Real' Test. As a rule of thumb, you should use the "Is it real?" test when deciding if a snack is worth eating. The test goes like this:If your snack can go bad, then it's good for you. If your snack can't go bad, then it's bad for you.The idea is to eat fresh, real foods that are unprocessed and wholesome. These real foods are naturally filled with fiber, vitamins, and minerals and will assist you in achieving your fitness goals.
6. Avoid Refined Carbohydrates. Processed and refined carbohydrates make up the bulk of popular snack foods. Take a look around the snack aisle at the grocery store and you will see that most packaged snacks are made with grains. When your goal is to lose weight and increase lean muscle then eating refined grains will work against you. If you only take one tip away from this email, let it be to remove grain-based snacks from your life. This single change could very well recharge your weight loss.
---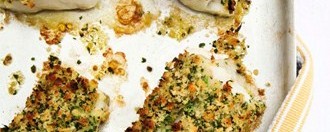 This easy 30 minute cod recipe will transform your fish into a flavoursome supper dish with a crunchy topping of fresh herbs and grated lemon zest. You can serve with plenty of green vegetables and a green salad for a complete delicious healthy meal!
Recipe Tip: This dish works well with any meaty white fish fillets. Try with pollock, haddock, hake, halibut or snapper fillets!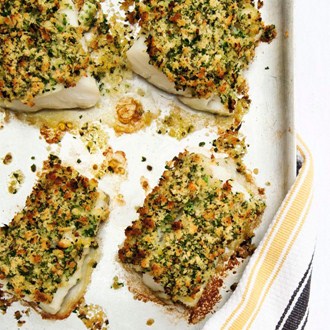 Servings: 4
Preparation: 10 Minutes
Cooking: 20 Minutes
Ingredients:
4 cod fillets
100g (3½oz) breadcrumbs
2 cloves garlic, crushed
Finely grated zest 1 small lemon
1tbsp chopped fresh chives
1tbsp chopped fresh flat-leaf parsley
1tbsp chopped fresh basil
60g (2¼oz) butter, melted
1 lemon, quartered, to serve
Directions:
1. Heat oven to 220°C (gas mark 7). Place the cod on a large greased baking tray and season with salt and freshly ground black pepper.
2. Combine the breadcrumbs, garlic, lemon zest and herbs, and season well. Pour in the butter and mix with a large fork or your fingers, until combined. Cover the fillets with the crumbs, pressing down on each.
3. Transfer to the oven and roast for about 20 minutes, or until the crust is golden. Serve with a green salad.
---
---
---
---