---
I've been getting a lot of emails asking what my training philosophy is and how I got started with IanFitness.
I thought I would take a moment and share with you a little of both.
My fitness background stems from my soccer playing experience. I grew up playing soccer in Seattle, played in College and was even lucky enough to play professionally for a few years.
It made perfect sense to me to share my ability to motivate, inspire, and make working out fun, and start helping people with their own fitness goals off the field.
In fact, one of the main reason I like helping people lose weight is so that they can enjoy being active. I just feel like Seattle and the World in general would be a better place if more people were able to get out and go for a hike, or a bike ride, or a jog and move their bodies.
As Humans our bodies were constructed to move and with desk jobs, tv shows (don't get my started on Game of Throne's) and long commutes we have gotten away from that and our bodies show it.
So, my goal is to make Seattle and the World a better place by helping people get healthy.
And from that goal my mission statement and public mission was born.
IanFitness Mission Statement:
IanFitness aspires to empower the people of Seattle to discover their happiest, healthiest selves through regular, fun, challenging, and dynamic exercise in a safe, supportive environment with knowledgeable, professional, and compassionate trainers resulting in an inspired community of leaders in health and wellness.
Public Mission:
Help 15,000 Seattle residents reach their fitness and or weight loss goals by 2020.
Training Philosophy:
One of my very first Clients was my best friend Nick's Mom.
She is one of these Women, and we all know at least one- that is just heavenly. Kind beyond belief. You don't have a place to go for Thanksgiving, or Easter, or Halloween, or Monday Night Football- whatever- you go to her house. She hugs you, feeds you, and makes you feel more comfortable than if you were in your own home.
She is just so sweet. And tragically, as Nick and I were growing up he lost his Father. (and she lost her Husband.)
It was tough on Nick and his sisters, but Anna most of all. She had to raise 3 kids on her own, be strong as a rock for all of them, and I can't even begin to imagine the pain sorrow dealing with that kind of loss.
As you might imagine eating well and exercising fell to the bottom of her list. It just wasn't a priority anymore and feeling unhealthy compounded her depression.
But, about 5 years agoshe reached out to me and said,
"I'm ready to make a change."
Now this Woman is like a second Mother to me and I was determined to not let her down and to help her get back to feeling healthy, confident, and fit.
She was motivated but she was also very intimidated.
I needed to create an atmosphere that was fun, friendly, and welcoming for an overweight self-conscious Woman, with existing knee injuries.
It was from that standard that I built IanFitness.
We create a fun, encouraging, not intimidating environment where you can push yourself to your limits under the guidance of a professional coach that will prevent you from injury and keep you accountable to give your best every time.
You will be up moving around burning fat and losing weight, and you'll get your cardio from kettle bells, battle ropes, steps ups and jumps, smash balls, TRX, and hundreds of fun dynamic movements and not wasting time on the boring treadmill or elliptical.
As you can see here it worked for Anna.
It will work for you as well!
Don't miss the Grand Opening-Open House this Weekend!
Free Food, giveaways, live DJ, demo workout sessions and a a chance to grab one of our limited 50% off Charter Memberships!
Friday 5pm-8pm and Saturday 830am-1230pm
5659 California Ave SW
---
---
---
---
Memorial Day is an opportunity to remember and honor people who have sacrificed their time and lives for our Country. Which is an important thing to reflect on.
It also means BBQ's, parties, and get together's where people like to plow through a few tons of chips & dips and drink a few too many cervezas. Then they end up digging themselves out of seven layers of guilt.
I can help with at least part of that with the unbelievably good (and healthy) guacamole recipe.
So this awesome recipes comes from my beautiful wife Krystal and it truly one of the healthiest things you can eat. The kiddo even loves it!
Many still do not know that avocados are incredibly nutritious and contain a wide variety of nutrients, including 20 different vitamins and minerals and some of the healthiest fats on the planet. This is a dip you can eat guilt free 🙂
Here is you Memorial Day Guacamole:
Ingredients
3 large ripe avocados
1 large shallot, finely chopped
1/4 cup fresh cilantro, finely chopped
1 clove garlic, minced
1/2 of a jalapeno pepper (optional), finely chopped
1/2 of a lime
salt to taste
Scoop the avocados into a medium bowl and lightly mash with fork Add shallot, cilantro, garlic, and pepper if using. Mix in evenly with avocados using fork to mash any lumps. Squeeze the juice from the lime over mixture and continue blending until smooth. Add salt to taste. Cover and refrigerate for one hour.
And instead of chips try using jicama, cucumber or other sliced veggies to dip.
It's full of flavor and won't wreak havoc on your waistline.
It't really that simple! Now you can make your Memorial Day even better with this crazy good guacamole.
As always, let me know if you have any questions!
-Ian
PS: Want 42 more delicious and healthy (and free) recipes like this?
---
---

For dinner tonight treat yourself to an easy to make and tasty meal! This Shrimp and Avocado Salad Recipe will take under 20 minutes to make. It's high in protein, low in carbohydrates, and low in calories!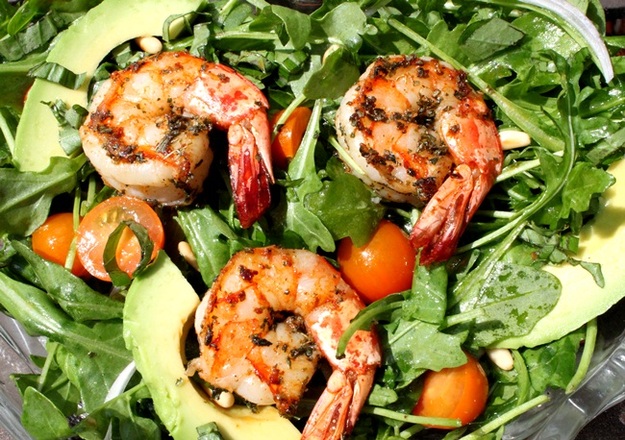 Shrimp and Avocado Salad Over Arugula Recipe
Makes 4 Servings Prep Time: 15 Mins Cook: 4 Mins Ready In: 19 Mins
Nutritional analysis per serving: calories 198, carbohydrates 11.5 g, fiber 4.8 g, protein 14.0 g, fat 11.7 g, cholesterol 111 mg, sodium 202 mg, calcium 85 mg.
Ingredients:
1/2 Pound Shrimp peeled and deveined
1 Pinch Sea Salt
1/2 Teaspoon Chili Powder
1 Tablespoon Extra Virgin Olive Oil
1/2 Red Bell Pepper diced
4 Shoots Scallions sliced
3 Tablespoons Fresh Cilantro
1 Ripe Avacado cubed
1 Cup Grape or Cherry Tomatoes halved
1 Tablespoon Lime Juice
4 Cups Arugula
Instructions:
Rinse the shrimp and pat dry. Sprinkle with salt and chili powder. Heat ½ tablespoon of the olive oil in a skillet on medium heat. Carefully place the shrimp in the pan and sear on each side for about 2 minutes until cooked through. Remove from heat and set aside to cool.
Combine all vegetables in a serving bowl and toss with the remaining olive oil and lime juice. Gently fold in the shrimp and serve over the arugula sprinkled with a little extra virgin olive oil.
Enjoy!
---

Try making this healthy, quick and easy Curried Egg Salad Sandwich Recipe that will take only 5 minutes of prep time! Eggs are naturally high in quality protein with all the essential Amino Acids as well as packed with vitamins and nutrients!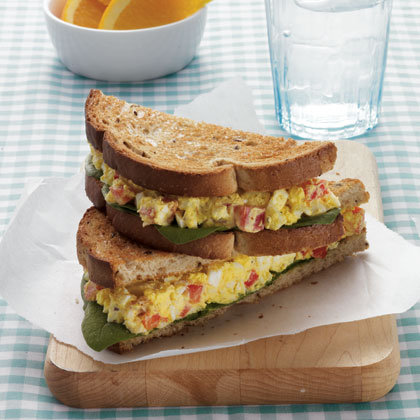 Curried Egg Salad Sandwich
Makes 1 Serving Prep Time: 5 Minutes
Ingredients
2 hard-cooked eggs, chopped
2 tablespoons plain Greek-style low-fat yogurt
2 tablespoons chopped red bell pepper
1/4 teaspoon curry powder
1/8 teaspoon salt
1/8 teaspoon pepper
2 slices rye bread, toasted
1/2 cup fresh spinach
1 orange
Directions:
Combine eggs, yogurt, bell pepper, curry powder, salt, and pepper, in a small bowl; stir well.
Place spinach on rye bread, top with egg salad, and serve the orange on the side.
Enjoy!
---
---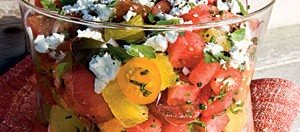 If you are looking for something cool and fresh to add to your dinner plans tonight try making this delicious Watermelon, Heirloom Tomato, and Feta Salad! Plus, it's simple and easy to throw together!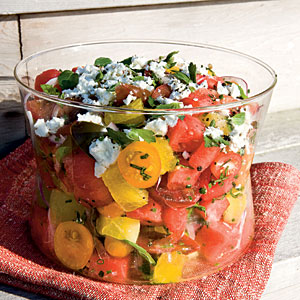 Watermelon, Heirloom Tomato, and Feta Salad
Makes 6 servings
Ingredients:
3 tablespoons extra-virgin olive oil
2 tablespoons chopped mixed fresh herbs
1 tablespoon fresh lemon juice
1/2 teaspoon kosher salt
4 none heirloom tomatoes, cut into chunks
1 cup (1-inch) cubed red seedless watermelon
1 cup (1-inch) cubed seeded yellow watermelon
1/4 cup vertically sliced red onion
1/2 cup crumbled feta cheese
Directions:
Whisk together first 4 ingredients in a large bowl. Add tomato, watermelon, and onion; toss to coat. Sprinkle with cheese; toss gently!
Enjoy!
---