Our bodies are like a delicate machine. We run thousands of different cellular processes simultaneously. It's no wonder our bodies can get thrown out of whack from not getting enough sleep, eating a fatty meal, drinking too much and being dehydrated.
This is why it's crucial to not only carefully plan your success items (healthy meals and workouts) but to also track what you're doing.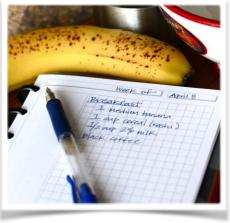 The truth is, most everyone (including you and I) will unaccount for 25% of the calories we consume when going off of memory.
Can you imagine what kind of impact that 25% will have on your waistline?
When you keep track of your metrics for the foods you eat, the water you drink and your choice of body measurement (weight, tape measure or trying on your favorite outfit) you'll be able to know exactly what's working and what isn't.
And the people that are meticulous about tracking are also the ones who get faster results… no surprise.
Today, start tracking everything you eat and drink, even if you know it's bad. There's lots of apps if you like doing it digitally or use the old fashion pen and paper method.
Track for 3 days and well go over it with you and tell you exactly what you should change for your desired goals.