For dinner tonight treat yourself to an easy to make and tasty meal! This Shrimp and Avocado Salad Recipe will take under 20 minutes to make. It's high in protein, low in carbohydrates, and low in calories!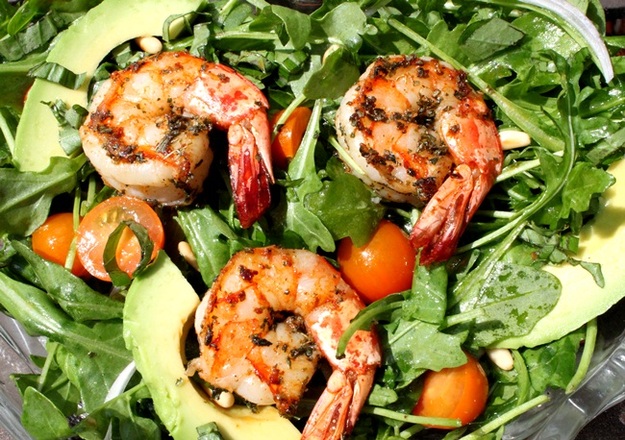 Shrimp and Avocado Salad Over Arugula Recipe
Makes 4 Servings Prep Time: 15 Mins Cook: 4 Mins Ready In: 19 Mins
Nutritional analysis per serving: calories 198, carbohydrates 11.5 g, fiber 4.8 g, protein 14.0 g, fat 11.7 g, cholesterol 111 mg, sodium 202 mg, calcium 85 mg.
Ingredients:
1/2 Pound Shrimp peeled and deveined
1 Pinch Sea Salt
1/2 Teaspoon Chili Powder
1 Tablespoon Extra Virgin Olive Oil
1/2 Red Bell Pepper diced
4 Shoots Scallions sliced
3 Tablespoons Fresh Cilantro
1 Ripe Avacado cubed
1 Cup Grape or Cherry Tomatoes halved
1 Tablespoon Lime Juice
4 Cups Arugula
Instructions:
Rinse the shrimp and pat dry. Sprinkle with salt and chili powder. Heat ½ tablespoon of the olive oil in a skillet on medium heat. Carefully place the shrimp in the pan and sear on each side for about 2 minutes until cooked through. Remove from heat and set aside to cool.
Combine all vegetables in a serving bowl and toss with the remaining olive oil and lime juice. Gently fold in the shrimp and serve over the arugula sprinkled with a little extra virgin olive oil.
Enjoy!