For dinner tonight Lets keep the menu simple!
Try making this delicious and healthy Mediterranean Shrimp recipe! Ready in just 15 minutes! Shrimp are a unique source of the antioxidant and anti-inflammatory nutrient called astaxanthin, which supports both the nervous system and musculoskeletal system. Shrimp is also high in Selenium and essential Omega-3 fatty acids!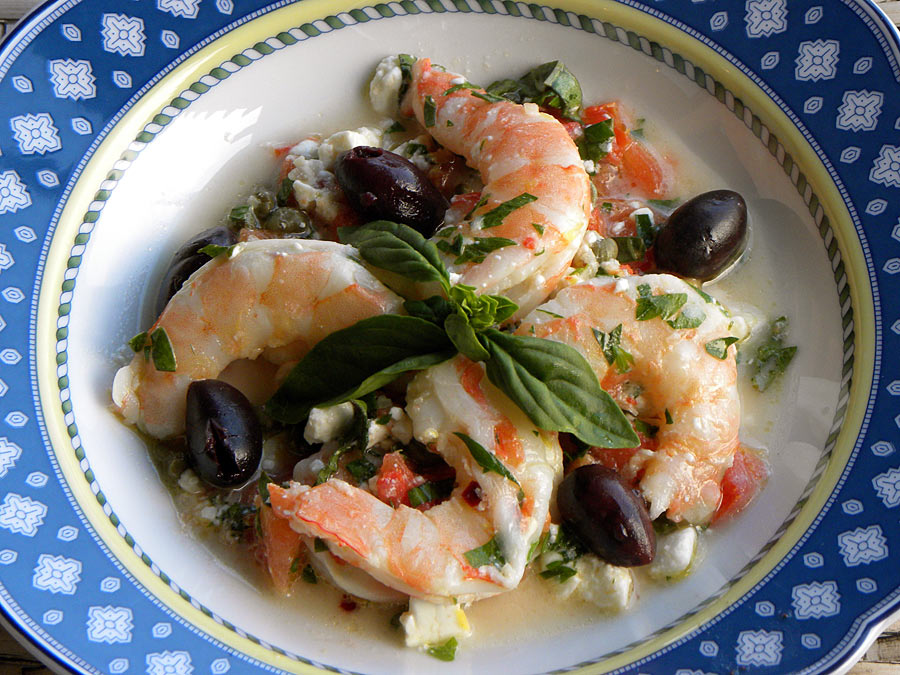 Mediterranean Shrimp
Nutritional analysis per serving: calories 267, carbohydrates 11.1 g, fiber 5.5 g, protein 19.2 g, fat 17.2 g, cholesterol 50 mg, sodium 205 mg, calcium 65 mg.
Makes 6 Servings Prep Time: 10 Minutes Cook: 5 Minutes Ready In: 15 Minutes
Ingredients:
1 Pound Raw Shrimp peeled and deveined
1 Pinch Sea Salt and/or Pepper
2 Tablespoon Extra Virgin Olive Oil
1 Small Red Onion Sliced
2 Tablespoons Garlic Minced
2 Cups Grape Tomatoes Halved
2 Tablespoons Fresh Basil Thinly Sliced
¼ Cup Kalamata Olives Diced
4 Cups Baby Spinach
Instructions:
1. Rinse the shrimp and pat dry. Season with the salt and pepper and set aside.
2. In a large sauté pan, heat the olive oil on medium heat, add the onions and garlic, and sauté for 2–3 minutes until the onions lightly crisp.
3. Add the tomatoes and sauté another minute. Add the shrimp and sear 1 minute on each side. Add the fresh basil and olives, combine, and remove from heat.
4. Gently toss in the spinach to wilt.
5. ENJOY!