Is it possible to burn fat while doing an exercise incorrectly?
Yes, absolutely. But what you risk by not taking the time to learn good form is a sidelining injury.
Besides not getting results, the 2nd most common reason people quit their fitness program's is they suffer an injury that requires them to stop working out.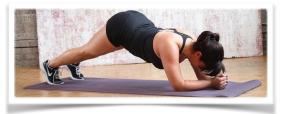 And when an injury like this occurs, most people's healthy eating regimen also goes out the window
So what's the best way to learn good form and avoid debilitating injuries?
Getting the right help.
Working with a skilled fitness professional will not only ensure you develop great form when exercising, they'll also prescribe the best workout routine to help you reach your goals as quickly as possible
If you've never worked with a fitness professional before, don't worry, most have packages to meet your needs and budget.
You wouldn't try doing your own dental work to avoid the cost would you?
Of course not, so don't put your body at risk if you know you need the help.