Grilling food is a fun and healthy way to fix your summer meals! So why not try this delicious and easy to make Hawaiian Turkey Burgers With Pineapple-Papaya Sauce Recipe?! Ground turkey has less saturated fat and cholesterol, it's low in calories, high in protein and contributes to your daily requirements for B-complex vitamins and selenium! The yummy pineapple adds flavor and makes a tangy topping while adding vitamin C!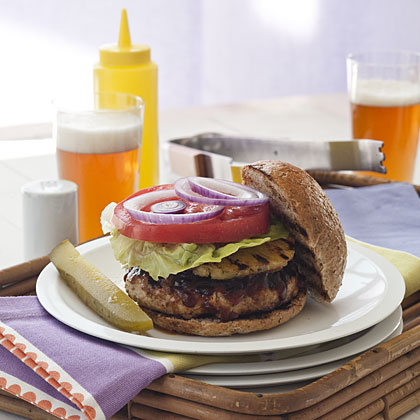 Prep Time: 20 minutes
Cook Time: 20 minutes
Yield: Makes 4 servings (serving size: 1 burger and 1/4 cup sauce)
Ingredients:
Pineapple-Papaya Sauce
1/4 cup chopped fresh pineapple
3 tablespoons fresh papaya, finely diced
2/3 cup barbecue sauce
1 tablespoon low-sodium soy sauce
Hawaiian Turkey Burgers
1 pound ground turkey breast
3 tablespoons unseasoned breadcrumbs
2 tablespoons finely chopped onion
1/4 teaspoon cayenne pepper
1 tablespoon brown sugar
1 teaspoon olive oil
1/4 teaspoon salt
1/8 teaspoon black pepper
4 thin slices fresh pineapple (optional)
4 whole-grain hamburger rolls, toasted
4 lettuce leaves
4 tomato slices
4 thinly sliced red onion (optional)
Directions:
1. For sauce, combine all ingredients in saucepan. Cook, stirring over moderate heat until sauce boils; simmer 10 minutes.
2. Preheat grill.
3. For burgers, mix ground turkey, breadcrumbs, onion, cayenne, sugar, and 1/3 cup sauce in a bowl until just combined. Form into 4 (1-inch) patties.
4. Brush burgers with oil; season with salt and pepper. Grill over medium heat, turning once, about 6 minutes per side. Baste with sauce, and grill 2 minutes more; transfer to plate. If desired, grill pineapple slices 2 minutes per side; transfer to plate.
5. Place burgers on rolls, and spoon on remaining Pineapple-Papaya Sauce. Top with pineapple slice (if desired), lettuce, tomato, and onion slices (if desired).