Indulge in the best of Summer in one dish! These pretty veggies are perfect for entertaining and Summertime cooking! Grilling brings out their natural sweetness, and the easy marinade really kicks up the flavor!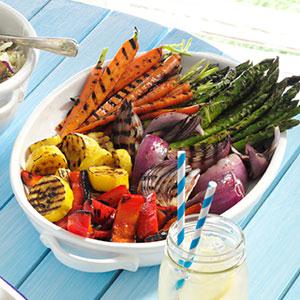 TOTAL TIME: Prep: 20 min. + marinating Grill: 10 min
MAKES: 6 servings
Ingredients
1/4 cup olive oil
2 tablespoons honey
4 teaspoons balsamic vinegar
1 teaspoon dried oregano
1/2 teaspoon garlic powder
1/8 teaspoon pepper
Dash salt
1 pound fresh asparagus, trimmed
3 small carrots, cut in half lengthwise
1 large sweet red pepper, cut into 1-inch strips
1 medium yellow summer squash, cut into 1/2-inch slices
1 medium red onion, cut into wedges
Directions
1. In a small bowl, whisk the first seven ingredients. Place 3 tablespoons marinade in a large resealable plastic bag. Add vegetables; seal bag and turn to coat. Marinate 1-1/2 hours at room temperature.
2. Transfer vegetables to a grilling grid; place grid on grill rack. Grill vegetables, covered, over medium heat 8-12 minutes or until crisp-tender, turning occasionally.
3. Place vegetables on a large serving plate. Drizzle with remaining marinade. Yield: 6 servings.
4. ENJOY!!!
TIP: If you do not have a grilling grid, use a disposable foil pan. Poke holes in the bottom of the pan with a meat fork to allow liquid to drain.