Grilled eggplant is not only delicious, but creamy and rich! This end-of-summer treat is the perfect vegetarian dish for lunch or dinner! Look for medium-size, purple eggplants with firm skins and no mushy spots. This yummy vegetable can usually be found in your local grocery store or local farmstand! So grab some eggplant and fire up the grill!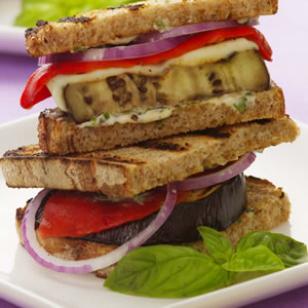 Yield: 4 Sandwiches
Total Time: 35 Minutes
INGREDIENTS
2 tablespoons reduced-fat mayonnaise
2 tablespoons chopped fresh basil
2 tablespoons extra-virgin olive oil, divided
8 1/2-inch slices eggplant, (about 1 small)
1/2 teaspoon garlic salt
8 slices whole-grain, Whole-Wheat, or Gluten Free Bread.
8 thin slices fresh mozzarella cheese
1/3 cup sliced jarred roasted red peppers
4 thin slices red onion
DIRECTIONS
1. Preheat grill to medium-high.
2. Combine mayonnaise and basil in a small bowl.
3. Using 1 tablespoon oil, lightly brush both sides of eggplant and sprinkle each slice with garlic salt. With the remaining 1 tablespoon oil, brush one side of each slice of bread.
4. Grill the eggplant for 6 minutes, turn with a spatula, top with cheese, and continue grilling until the cheese is melted and the eggplant is tender, about 4 minutes more. Toast the bread on the grill, 1 to 2 minutes per side.
5. To assemble sandwiches: Spread basil mayonnaise on four slices of bread. Top with the cheesy eggplant, red peppers, onion and the remaining slices of bread. Cut in half and serve warm.