As Summer comes to a close, take advantage of that fresh, local, sweet and juicy corn! It's great right off the cob or used in recipes like this easy frittata. You can also use grilled, boiled or steamed corn. The addition of basil to this frittata adds a wonderful fresh flavor!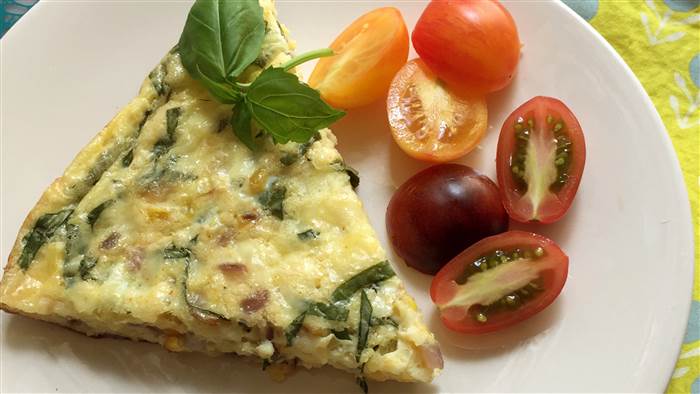 COOK TIME: 27 Minutes
PREP TIME: 10 Minutes
SERVINGS: 6
Ingredients
1 tablespoon olive oil
1 cup chopped red onion (about 1/2 large onion)
8 large eggs
1 cup shredded manchego cheese
1/2 cup 2% milk
1/4 teaspoon salt
1/4 teaspoon ground red pepper
1 cup grilled corn kernels (from approximately 1 and 1/4 ears)
1/2 cup basil, chopped
DIRECTIONS
1. Preheat oven to 350°.
2. Heat the oil in an ovenproof 10-12-inch pan over medium-high heat. Add the onion and cook for about 6 minutes, until translucent.
3. Meanwhile, in a large bowl, whisk the eggs. Add the cheese, milk, salt, ground red pepper, corn and basil and whisk again.
4. Pour the egg mixture into the pan with the onions. Cook for 6 minutes over medium-high heat until the edges are set.
5. Transfer the sauté pan to the oven and cook for 15-18 minutes, until the top looks dry and the egg mixture is completely set. Carefully remove from oven, cut into 6 wedges and serve. Leftovers can be kept in the refrigerator for up to 3 days.