Try this delicious Summer recipe for Grilled Chicken with Fresh Grape Glaze. Combining fresh grapes with soy sauce, balsamic vinegar, and rosemary with your grilled chicken will bring a unique Summer flavor to the table! The natural sugars in the grapes will carmelize during the cooking, giving the finished dish the charred crust that makes this grilled chicken recipe a keeper! Not to mention that chicken is also low in fat and calories and high in protein, which makes this meal ideal for weight loss and management.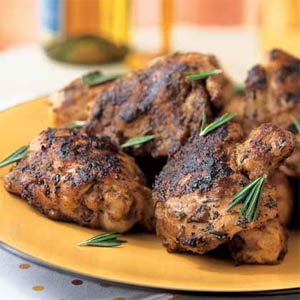 Yield: 6 Servings (Serving Size: 1 Thigh and 1 Drumstick)
Ingredients:
Glaze:
3 cups seedless red grapes
2 teaspoons olive oil
1 cup chopped onion
2 garlic cloves, minced
2 tablespoons balsamic vinegar
2 teaspoons low-sodium soy sauce
1 teaspoon brown sugar
1 teaspoon chopped fresh rosemary
Chicken:
1 tablespoon olive oil
6 chicken drumsticks (about 1 1/2 pounds), skinned
6 chicken thighs (about 1 1/2 pounds), skinned
2 teaspoons chopped fresh rosemary
1 teaspoon freshly ground black pepper
3/4 teaspoon salt
Cooking spray
Fresh rosemary leaves (optional)
Directions:
Preparing the GLAZE
Place grapes in a blender; process until smooth.
Heat 2 teaspoons oil in saucepan over medium heat. Add onion; cover and cook 10 minutes.
Add garlice; cover and cook 3 minutes, stirring occationally. Stir in pureed grapes, vinegar, soy sauce, sugar, and 1 teaspoon rosemary; bring to a boil. Reduce heat, and simmer 10 minutes or until slightly thick. Cool slightly.
Place grape mixture in blender; process until smooth. Set aside.
Preparing the GRILL 
To prepare chicken, brush 1 tablespoon oil over chicken; sprinkle with 2 teaspoons rosemary, pepper, and salt. Place chicken on grill rack coated with cooking spray; cover and grill 25 minutes or until done, turning and basting frequently with grape glaze. Garnish with rosemary leaves, if desired.