Stuff grilled fish, fresh watermelon salsa and sliced avocado in corn tortillas for an easy, best-of-Summer meal thats ready in just 30 minutes!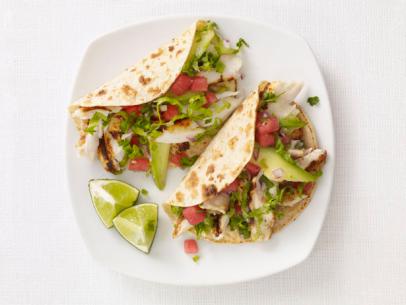 Total Time: 30 min (Prep:20 min Cook:10 min)
Yield:4 servings
Ingredients:
4 cups diced seedless watermelon
1/2 small red onion, finely diced
1/2 cup roughly chopped fresh cilantro
Juice of 2 limes, plus lime wedges for serving
1 jalapeno pepper, seeded and finely diced
1 tablespoon plus 2 teaspoons extra-virgin olive oil, plus more for brushing
Kosher salt
1 pound skinless wild striped bass fillets
1 teaspoon chipotle chile powder
1 romaine lettuce heart, thinly sliced
8 corn tortillas
1 avocado, sliced
Directions:
1. Make the watermelon salsa: Combine the watermelon, red onion, cilantro, lime juice and jalapeno in a bowl. Toss with 1 tablespoon olive oil and 1/2 teaspoon salt and set aside.
2. Preheat a grill to high. Sprinkle the fish on both sides with the chile powder and 1/2 teaspoon salt; drizzle both sides with the remaining 2 teaspoons olive oil. Brush the grill with olive oil, then add the fish and grill until marked and cooked through, 4 to 5 minutes per side. Transfer the fish to a plate and break into bite-size pieces.
3. Meanwhile, toss the lettuce with 2 tablespoons of the juices from the watermelon salsa and a pinch of salt. Warm the tortillas on the grill and fill with the fish, watermelon salsa, avocado and lettuce. Serve with lime wedges.
4. Enjoy!