Try making this healthy, quick and easy Curried Egg Salad Sandwich Recipe that will take only 5 minutes of prep time! Eggs are naturally high in quality protein with all the essential Amino Acids as well as packed with vitamins and nutrients!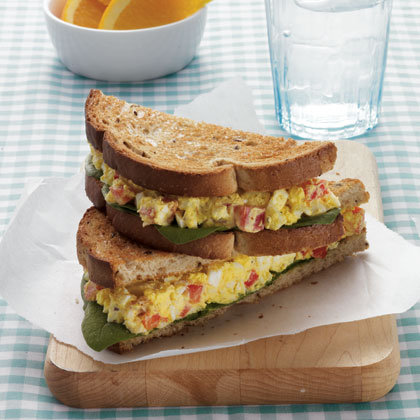 Curried Egg Salad Sandwich
Makes 1 Serving Prep Time: 5 Minutes
Ingredients
2 hard-cooked eggs, chopped
2 tablespoons plain Greek-style low-fat yogurt
2 tablespoons chopped red bell pepper
1/4 teaspoon curry powder
1/8 teaspoon salt
1/8 teaspoon pepper
2 slices rye bread, toasted
1/2 cup fresh spinach
1 orange
Directions:
Combine eggs, yogurt, bell pepper, curry powder, salt, and pepper, in a small bowl; stir well.
Place spinach on rye bread, top with egg salad, and serve the orange on the side.
Enjoy!
---