This delicious Summer chopped salad recipe features corn, black beans and zesty tomatoes combined with iceberg lettuce! This salad is perfect as a side or as a topping for grilled chicken! You can even add sliced fresh avocado and grilled chicken into the recipe!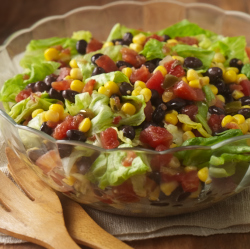 Ingredients
3 cups chopped iceberg lettuce
2 cans (8-3/4 oz each) whole kernel corn, drained
1 can (15 oz each) Rosarita® Premium Whole Black Beans, drained, rinsed
1 can (10 oz each) Ro*Tel® Mexican Diced Tomatoes with Lime Juice & Cilantro, undrained
2 tablespoons Pure Wesson® Canola Oil
Recipe Tips
Add your favorite shredded cheese, sliced avocado, and grilled chicken to make this salad more hearty
Directions
1. Toss together all ingredients in large bowl until combined.
2. Enjoy!