Try making this delicious and healthy Warm Chicken and Butter Bean Salad recipe that's easy to put together and perfect for a week night or weekend dinner menu!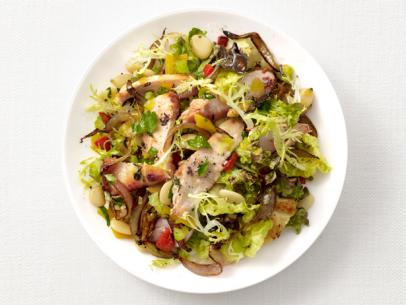 Prep Time: 15 Minutes
Cook Time: 15 Minutes
Total Time: 30 Minutes
Yield: 4 Servings
Ingredients
1 15 -ounce can butter beans, drained and rinsed
1 12 -ounce jar roasted peppers (red, yellow or a combination), drained and chopped
1/4 cup chopped dill pickles
2 stalks celery, diced
2 tablespoons chopped fresh parsley
Finely grated zest and juice of 1 lemon
1/4 cup extra-virgin olive oil
1 1/2 pounds skinless, boneless chicken breasts
6 sprigs thyme
1 red onion, halved and sliced
1/4 teaspoon red pepper flakes
6 cups mixed baby greens
Directions
1. Combine the beans, roasted peppers, pickles, celery, parsley and lemon zest and juice in a large bowl.
2. Heat the olive oil in a large skillet over medium-high heat. Add the chicken and thyme, then scatter the red onion and red pepper flakes around the pan. Cook until the chicken is browned on the bottom and the onion is soft, about 4 minutes. Turn the chicken, add 1/4 cup water, cover the skillet and reduce the heat to low. Continue cooking until the chicken is cooked through, 5 to 8 more minutes. Transfer the chicken to a cutting board; discard the thyme. Add the cooked onion to the bean mixture.
3. Thinly slice the chicken against the grain and add to the bean mixture. Add the greens and toss to combine.
4. Enjoy!